ILIPINO POTPOURRI
By Jesse T. Reyes
SAN DIEGO, Calif. – Cheers!
Many Filipinos are being drawn to watch Korean dramas and American shows today for entertainment while disregarding Filipino television shows either because of its repeating plots or "kabaduyan" (tackiness).
But what most people don't know is that this "baduy" shows are starting to get attention in the international spotlight.
That's right, my man!
The Philippines' local TV soaps are being watched and praised by foreigners for its high quality.
"Forevermore"… or "may forever!" as they say in the local dialect of Manila…Hahahaha!
This fresh endearment story will remind us of the magnanimous love team that started it all in the wonderful community of Sitio La Presa.  Starring Enrique Gil and Liza Soberano, "Forevermore" shows that great love often conquers all odds.
This 2014 romantic drama series was so loved by the Filipino audience that in May 2015, ABS-CBN proudly announced that "Forevermore" will also air in Vietnam, Africa and most notably in Kazakhstan.
Kazakhstan?
(Yes, Kazakhstan!  Officially the Republic of Kazakhstan, it is the world's largest landlocked country and the ninth largest in the world with an area of 1,052, 100 square miles.  It is also the dominant nation of Central Asia economically generating 60% of the region's GDP primarily through its oil/gas industry and vast other mineral resources)
Hahahaha!! Awesome!!! Absolutely so wonderful to hear about.
That I will say, it is.
It does appear that Philippine dramas and movies are just no longer simply only for Filipino consumption after all!
I have just learned, too - that despite differences in culture and in taste, Filipino movies and television dramas, dubbed in Khmer languages have become part of the daily lives of so many Cambodians.
More than a decade ago, a Filipino TV series titled "The Promise" or "Pangako sa 'Yo" starring Kristine Hermosa and Jericho Rosales captured the attention of a lot of Cambodians when it was broadcast by the Cambodian Television Network (CTN).
According to one news report, Cambodian Kun Sreynin, then 22 and a graduate of the Royal University of Cambodia, recalled her own experience in watching the television series.
"The most interesting part of the drama…is the love between the rich and the poor (and how) the couple (tried) to get through all the barriers to be together," she said.
"I like the movies very much because it did teach people not to discriminate the poor or the lower class," Sreynin remarked.
The young Cambodian noted that the actors performed well.  "I can feel all the emotions in the drama."
Because of its tremendous success, film production company Khmer Mekong Films (KMF) decided to produce a local adaptation of the show titled "Son-ny-ya-sa-ne."  It aired from 2013 to 2014 with 198 episodes.
Another Philippine drama that became very famous in Cambodia in 2012 and 2013 was "Dyesebel," which aired in the Philippines in 2008.  It was a wonderfully, marvelous mega hit among many Cambodians.
This movie made the two Filipino leading actors, Marian Rivera and Dingdong Dantes earn a huge following in the country.  Because of the show's popularity, many Cambodians now call Rivera "Dyesebel."  And since then, many local Cambodian news agencies have kept their eyes on the two, reporting about the projects and updates on their lives, such as when Dantes proposed to Rivera and when they eventually married.
Som Panha, then 21 and a student from the University of Phnom Penh, said the drama falls under the fairy tale category.
It tells the story about the love between a mermaid and a man, who could not be together because they live in two different worlds.  He said the drama is similar to the animated film produced by the Disney Company.
He added, "The part I like most about the drama is that it finished with the happy ending as the main mermaid actress gave up her crown (as a queen) in the sea world to live with the man she loves."
He noted that while the story reminded him of the Disney cartoon, the Filipino director was able to make it interesting.
"What I have learned from the movie is that love is stronger than the obstacles we face in our daily lives no matter who we are," Panha explained.
By the way, films featuring Filipino actors have also become popular.  Last year, the Philippine-Cambodian movie "Blood in Dispute," was screened in Cambodia and the Philippines, where it was released with the title "Fight for Love."
Directed by Canadian director Ken Simpson and produced in collaboration with the Cambodian Television Network and GMA Network, the movie featured Cambodian and Filipino stars such as Andrea Torres, Mikael Daez, Meas Thonsreynai,  Khat Vaihang and Tep Rindaro.
Lach Sreynit, then 22 and a senior student at the Institute of Foreign Languages in Cambodia said," I went to watch the movie in the cinema and I like it because the movie has good cinematography and the Filipino actor is very handsome."
The Cambodian indicated that the movie also had a "good moral lesson" as it showed how family ties can remain strong "despite how serious the issues we face."
Due to the popularity of the Philippine dramas and movies, indeed – the entire Filipino stars previously mentioned have all been invited to Cambodia to meet and perform for their loyal and adoring Cambodian fans.
Moving on, I must confess that my wife and I do love Filipino soap operas (Shades of "Esperanza"...which was a primetime TV drama that was aired by ABS-CBN from February 17, 1997 to July 30, 1999 replacing the 4-year run of another hit show "Maria Clara")  I don't watch them very often but I do like them, because somehow, folks like me manage to subconsciously register a sufficient amount of information for us to detect a pattern, or a recurring theme, or a trope, on these telenovelas.
As many of our "kababayans" (fellow countrymen) would probably know, soap opera clichés translate to a romanticized, glamorized view of Filipino life.  We tend to cling on the legacy (substantial or not) of these icons and project unto them what we think and just who we are as a people.
It might be due to this that Filipinos tend to have this so-called "Filipino Pride."
Here, in the Filipino soap operas – we have a bunch of society who supposedly represents the very quintessence of "Filipino-ness" for the whole world to see.  And since they're apparently good at what they do, it gives the essence of being Filipino great justice.  In effect, we treat them as the embodiment of the "Pinoy" vibe.
It also appears that Filipino soap operas aren't just only for the Filipino audience after all!
Indeed, in a previous column I penned  – more than a couple of years ago –I wrote about all of these and I found out that in Africa (and I reckon the rest of the world, too!), Filipino soap operas are truly and absolutely primetime must-see TV.
While Filipino-dubbed Mexican telenovelas and Korean drama series have captivated local audiences back in the old homeland, a number of Filipino TV programs are making a big splash abroad, with shows produced by major Philippine broadcast networks earning loyal fans in Asia, especially in Africa and I reckon, the rest of the world, too.
In particular, the Filipino TV station ABS-CBN's drama series like "Pangako sa 'Yo" (The Promise), "Sana'y wala nang  wakas" (Timeless) and "Kay tagal kong hinintay" (The Long Wait) are all blockbuster hits in Africa.
No wonder…Kristine Hermosa is now a superstar in Africa as the continent was hit by Philippine telenovela craze, spawning websites and fan clubs.  "Pangako sa 'Yo" was shown in Kenya, Ghana, Cameroon, Tanzania, Namibia, Zambia, Botswana and Uganda, making African audience instant fans of Ms. Hermosa and Mr. Rosales.
In Zambia, a newspaper article said that: "The series has become a topic of discussion among families, friends and even neighbors who daily ponder on how the show would end."
While a TV commentator in Africa asked: "When is "Pangako sa 'Yo" coming back?  I wish I could get a dollar each time I get that question.  From teenager to grandma, from household organizers to tax consultants – it gripped people across all genders."
A Filipino journalism professor and entertainment editor declared that "Pangako sa 'Yo" paved the way for more Philippine TV programs to make it in international markets.
As further evidence of this, the West African nation of Sierra Leone is just one of the latest handful countries that got bitten by the Philippine soap opera bug.  The series are sold over there in DVDs and translated to Creole English.
Truly, it is a genuine fact that Philippine TV dramas and movies are not only for Filipinos anymore!
"The Philippines was under Spanish rule for 300 years.  From them we got our religion, Christianity, which had become the basis of our lives.  This makes us unique from the rest of Asia," he explained in an interview.
"If other foreign dramas viewers see more adult content – like more about philandering husbands and broken marriages – in our case, our dramas are more family oriented, and have values.  The characters in Filipino dramas decide based on their faith, and their family, themes which appeal to a lot of viewers in other countries," he further noted.
I know that most of you - my dear folks - are all familiar with the Filipino soap opera premise: a poor girl from the provinces takes her chances and goes to the big city to provide more for her family, and through some twist of fate, finds a good husband and becomes successful, and lives happily ever after.
Most Filipino operas play out this way, simply because it mirrors the reality of life's hardships back in the old homeland, while at the same time reflecting how Filipinos choose to remain hopeful in spite of all the difficulties.
Filipinos often see their own soaps as laughable compared to big-budget productions from Hollywood or anywhere in America but for those going through a very similar situation - seeing a reflection of your life - making a chance for the good - is a compelling enough reason to watch.  Add that to the fascination and exoticism of Filipino culture in recent times, and you have a hit soap opera that will definitely pull in viewer's every night, whatever country you may be in.
Indeed, the Filipino's telenovelas are the hot items in foreign newspapers; there's the case of a TV station in Africa that delayed its launch hoping to have the Philippine telenovela stars to grace their celebration.  "The Filipino telenovela business in Africa is absolutely a phenomenon and has captured advertising revenues never achieved before by the networks," states the ABS-CBN International Sales and Distribution Director.
And if you, my dear folks don't know it yet - on Wednesdays and Thursdays in Kenya, people in the capital rush home from work to catch the latest installment of the soap opera "Love is Timeless."
The series starts at 7:30 p.m.   An editor of the Kenya Times was reportedly to have said that the series is so popular that evening rush results in regular traffic jams.
Kenya beams the series to Uganda where the show enjoys immense popularity.  A Ugandan editor also have expressed the same sentiments and stated that people rush home to catch the TV series on prime time.
In households in Kampala, the capital of Uganda around a million people are tuned in every night to watch the latest episode of "Be Careful with My heart."
(Interestingly, there are currently only about six hundred Filipinos in Uganda.  Ugandan President Yowen Museveni has applauded the Filipino community in Uganda for making his country their investment destination in the fields of construction, health and agriculture.  He also commended the Filipinos for the sense of togetherness they portray amongst themselves and the fact they are proud of their roots and heritage.)
The woes of a young Filipina who dreams of escaping poverty might not seem like the most captivating television for Ugandan audience but every night, about a million of them actually gather around to see the latest challenge that Maya de la Rosa must overcome in the big city of Manila.
Ms. De La Rosa is the lead character in "Be Careful with My Heart," one of many Filipino soap operas that have exploded on Ugandan television, usually rating second or third behind the ever popular evening news.
Though American shows once dominated the entire East African television schedule, evidently familiar themes like village-to-city migration and patriarchal Christian values have made the soap operas from the Philippines much more readily attractive to the Ugandan audience.
"You need to make sure that there's some element of African kind of living, the life that we see every day," says a programmer for Bukedde TV, one of Uganda's top stations that runs "Be Careful With My Heart."  Each year for the last three years, Uganda has sorted through a catalogue of shows from foreign media and lately, Filipino soaps have made the pick.
The distribution of soap operas to stations like Bukedde TV is big business says an international content specialist.  The international soap opera industry sprouted in the early '90s to put on the airways.  Cheaper-priced Latin American telenovelas filled the void for a long time but the Philippines soon began exporting its own soaps centered on common people with simple yet dramatic story lines.
"Pangako sa 'Yo" or "The Promise," the first Filipino soap aired on Ugandan television in 2012 was a major hit – also in markets like China, Kenya and Zambia – and rival stations soon picked up other Filipino soaps.
Though there are often language and cultural barriers that don't translate to this new audience, the popularity of these soap operas in Uganda shows the fulfillment of a particular niche within a globalized world: products foreign enough to be exotic, but familiar enough to be comforting.
"This process has happened over and over again," the international content specialist says.  "A show from one part of the world that has no connection to another becomes more important than anything else because the (receiving) country isn't developing its own material."
When foreign soap operas arrive at Bukedde TV, video jockeys translate them from English into Luganda, one of Uganda's primary languages.  Bukedde TV, a terrestrial channel throughout the country, caters mostly to the Buganda, the largest ethnic group in Uganda.  Many Ugandans have some knowledge of the language.
So, why does Africa embrace Philippine stories?
Executives said it's because of the mixture of distinct facial features on the screen ranging from Asian to Spanish and also explains that due to the infusion of multicultural context, they have captured both female and male African audiences.  During the World Cup month, the time slots of The Promise, Timeless, The Long Wait and other Filipino telenovelas airing on various networks across Africa were pre-emptied.   As a result, the male audience was warned by their wives of having no meals on their tables for not having their favorite Philippine telenovela on air.
I say, too - Filipino soaps find an audience in Uganda because they adhere to a common formula, described as a "Cinderella story, a young girl in the country who's relatively innocent and looks after her relatives, and she's immediately transported to a place of great corruption, a city or a rich family."  These shows connect because they deal with poverty and issues affecting Uganda's very own everyday lives.
The first episodes of "Be Careful With My Heart," for example, shows the plucky de la Rosa trying to overcome her family's money problems, being scammed in an attempt to get to America, worrying that the money she sends home maybe stolen, and dreaming of finding a proper husband.
"Unlike American TV that constantly shows us Hollywood glamour, totally the opposite of actual (and real!) Life most of us live, these Filipino soaps reflect our society," an editorial in a local Ugandan newspaper noted.
There is a limit to cultural understanding, however.  The Ugandans say they often have to censor salacious material that could easily offend the heavily conservative Ugandan public.
Uganda is notorious for its intolerance of gay people and has long had anti-gay laws.  So when Filipino soap operas – which have recently begun to show positive portrayals of gay culture – show two men in a relationship, the TV station often cuts the scene on or story line.
"The audience won't understand that," the Ugandan program manager voiced out.
Some critics complain that importing global media stifles the development of local talents but the international content specialist doesn't foresee the hunger for these foreign soaps declining.  According to last year's poll, Bukkede TV averages 954,000 viewers during the 8:30 p.m. time slot for Filipino soaps.
A Ugandan housewife says she knows what to expect when she watches a Ugandan soap opera.  A Filipino soap, on the other hand, has the potential to surprise, while still reflect her daily life.
"When a (Filipino) soap and a Ugandan soap are side by side, I think I would run and see the (Filipino) soap," she says with a huge grin.
Which is, in essence and in a response to the above statement - I think the number one thing that positively fascinates Africans about Filipino soap operas is that- notwithstanding of how many recurring theme Filipinos are able to pin down (and regardless of how many remakes they do), it doesn't actually seemed to really diminish from the experience of watching it all.
I reckon like in real situation for most Filipinos, life is one big soap opera for most Africans and now for a majority of Cambodians, too!
Mabuhay!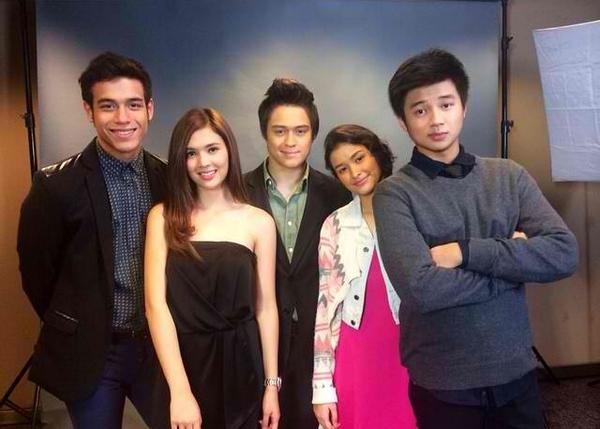 Forever More Cast